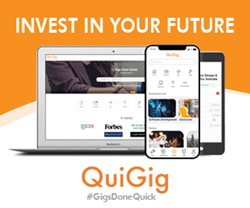 "We believe the future of gig economy demands faster and easier ways to hire and find work and we have built our app to be an effective solution to such demand." said Dr. Emad Mousavi, QuiGig Founder and CEO

HOUSTON (PRWEB)
January 09, 2019
QuiGig, the community-driven freelancer marketplace, announced today the launch of it's StartEngine investment campaign, the latest way to fund the growth of their platform.
By incentivizing quick engagements and limiting time for hiring decisions, the QuiGig app aims to be the quickest way to buy and sell services. Both buyers and sellers of services can use the QuiGig app as a fast, simple, and convenient way to connect, communicate, and complete payment transactions. With QuiGig's subscription plans, users have a control over their monthly costs because rather than paying high commission fees per job, they will pay a fixed monthly fee.
QuiGig has already launched two mobile apps at the App Store and Google Play Store, and the web application, filed one patent on a proprietary SEO-based content generation algorithm, filed several trademarks, and accumulated thousands of users. This new funding would be used to promote the platform to more users as well as create a balance between employers and service providers in different service lines. Moreover, the funds will be used for developing new tools and features to help freelancers build and manage their team and personal business.
The QuiGig investment opportunity is live on the StartEngine platform, which supports the growth of disruptive startups, primarily in the tech space. StartEngine enables investment from it's network of global investors and beyond and performs the necessary compliance checks to ensure the eligibility of both the QuiGig Inc. and investors under US Securities and Exchange Commission laws. QuiGig especially invites investments from Asia, Europe, and Australia.
"With the launch of the crowdfunding campaign, we take another step toward transforming the QuiGig platform into a rich ecosystem that better suits the needs of the rapidly expanding 'gig economy,'" said Dr. Mir Emad Mousavi, CEO of QuiGig. "We believe the future of gig economy demands faster and easier ways to hire and find work and we have built our app to be an effective solution to such demand."
For more information, please visit http://www.quigig.com.
About QuiGig

QuiGig is a seamless, secure, cost-effective and community-oriented platform serving the needs of the ever-expanding "gig economy" in the digital era. From mobile optimization to access to business insights and recommendations and online and local training tools for professional development, QuiGig leverages advanced techniques and technologies to connect service sellers and buyers and collect, analyze, and share knowledge about their best practices with the community of QuiGig users. QuiGig provides service providers with easy, free or low cost access to clients, a fair hiring and payment process, as well as data driven insights to support their long term success. For service buyers, QuiGig offers free or low cost access to our freelancer community, providing a convenient and secure way to hire talent for a wide variety of services. To learn more about the QuiGig solution, please visit http://www.quigig.com.
###
Share article on social media or email:
Cludo Trends