iClick (NASDAQ:ICLK) is China's largest independent online marketing technology platform that connects worldwide marketers with audiences in China. Its proprietary platform possesses omni-channel marketing capabilities and fulfills various programmatic marketing objectives for both international and domestic marketers. Here is a description of the type of services it offers (even if this is a little old, from an interview with the CEO in 2014 with Adexchanger):
We work to position iClick as a unified platform to simplify the whole complicated media buying process in China. We aggregate the inventory on the search side, with Baidu, the largest search engine in China; 360; Google and other small players. Then we are connected with the RTB exchanges. The second thing we help advertisers to solve is the data. After we collect all this data, our data team will do some segmentation: search behavior, browsing behavior, and because we also help advertisers to do their search engine marketing, we also collect the transactional data. The third thing we offer is account services, because many advertisers don't know how to kick-start a programmatic media campaign in China. We have services staff in six countries in Asia helping advertisers to set up their campaigns.
It hasn't had a good time, to put it mildly:
The curious thing is, company developments don't seem to warrant such a decline in the stock price: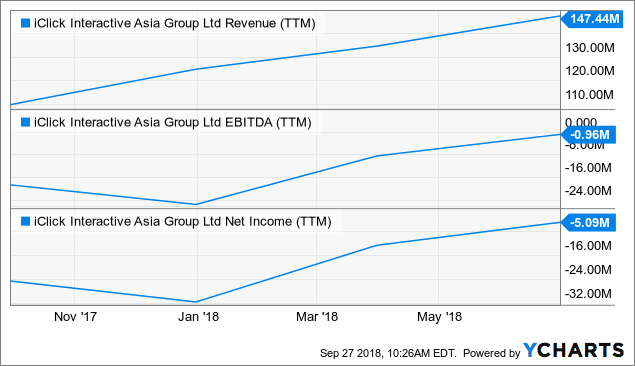 You see a steady and considerable revenue growth and operational improvements, even if the company still makes a loss. The Chinese overall ad market is growing fast, from Statistica: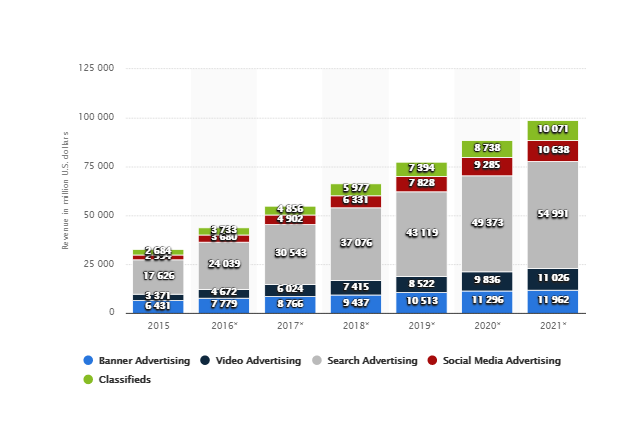 It is still dominated by search. What is more surprising is that mobile is still a tiny fraction of the market, from McKinsey:
But this is of course the percentage with respect to the overall ad market, as part of the digital ad market it's more significant, from Komarketing: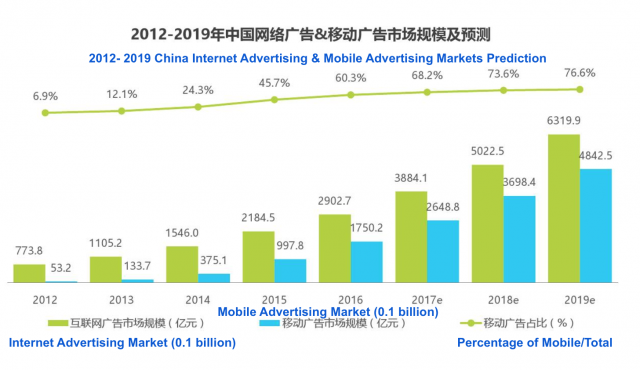 Its most valuable asset is a giant database of Chinese consumers. From the IPO prospectus (our emphasis):
We collect data from a wide variety of channels, including through our proprietary tracking tools, from our marketers, publishers and ad exchanges when managing marketing campaigns, and to a lesser extent, from third-party strategic partners. From our large volume of unstructured data, we construct context-rich user profiles, utilizing our proprietary audience profiling and segmentation technologies. These user profiles, which are updated and refined on a continuous basis, typically include information on a user's attributes, such as his or her demographics, geographic location, device preference, spending history, personal interest and other online or offline behavioral pattern. In the 30 days leading up to September 30, 2017, we analyzed approximately 633.5 million active profiled users with 19 attributes on average for each such profile.
From a more recent interview with China Daily:
iClick derives its data from three main sources: its own ads that come with tracking codes, its proprietary ad networks, and from publishing platform partners it works with.
The database now extends to 750M active profiled users.
That database is crucial as it allows customers a much more precise targeting of customers based on a variety of parameters (as explained in this video), and the platform also provides data about the effectiveness of campaigns.
The company claims:
To be the largest independent marketing platform in China.
Having the largest independent Chinese consumer data set with omni-channel, targeted audience reach.
These claims come from Frost and Sullivan that we believe was commissioned by the company and mentioned in their IPO prospectus. To have an idea of the market here:
The total size of China's independent online marketing technology market, as measured by gross billing, was RMB29.6 billion in 2016, growing from RMB8.4 billion in 2012, representing a CAGR of 37.2%, and is expected to reach RMB114.6 billion in 2021, representing a CAGR of 31.1% from 2016 to 2021.
The company's gross billing reached $236.3M in 2016. At an exchange rate of 7 yuan per dollar amounts to RMB1.65B, that is still a small fraction (5.5%) of the independent market size of RMB29.6B in 2016. The market is clearly fragmented.
In theory, this should open up interesting perspectives as they claim to have the largest Chinese customer data set with 633.5M active profiled users (now over 700M per Q2CC).
With the independent market so fragmented and the company already the biggest independent player and having this ace database, one would expect the company to be in a good position to take market share.
That seems to be happening; their total gross billing increased by 86.4% in Q2 (y/y), that's well above the kind of growth figures from Frost and Sullivan for the independent market as a whole (see quote above).
Mobile is where it is happening. Gross billing and revenue from mobile solution increased by 133.7% and 56.9% in Q2 (y/y), respectively. Mobile is an ever bigger part of the company as mobile gross billing ($88.9M) was over 84% of overall gross billing ($105.4M).
The PC market is shrinking, but that segment is ever smaller (less than 16%) so that decline has an ever smaller effect on overall growth.
That overall growth was very good; apart from the increase in gross billing (+86.4%) mentioned above, revenues grew 43% to $42.7M (y/y) in Q2.
Here is what their platform does, from the 2017 20-F:
For the sake of brevity, we refer the reader to this report for a more detailed description.
Growth initiatives
BI (Business Intelligence)
Partnerships
International expansion
Now that iClick has digital profiles of basically all Chinese consumers (750M) it doesn't mean they can't expand their platform and improve it, for instance, through partnerships and international expansion.
New partnerships are not only allowing the company to monetize its platform, they also add new data to their database and improve their targeting algorithms in a virtuous cycle, increasing the stickiness of the platform as well.
The database can then also be monetized outside their programmatic ad platform and used in new services like business intelligence.
The third step is international expansion to allow foreign brands to use their platform and other services.
Business Intelligence
The first initiative that goes beyond its programmatic ad platform, offering services like (from company PR):
The Company's BI solutions have already been implemented in one of the largest Chinese retail chains, which operates across over 30 cities. The solutions possess the following potential and features:

Integration of online and offline data: Data from both online and offline sources is integrated into the cloud-based BI platform, to allow seamless omni-channel customer management. This includes, amongst others, proprietary data collected from CRM, mobile shopping app, Wechat account, Wechat micro-app. The extensive integration of data allows a more in-depth understanding and segmentation of customers from a 360-degree profile of users.
Drive retail and sales decisions: Data analysis drives precise and real-time business decisions like store expansions, product selection and offerings for targeted customer segments as well as personalized customer services. iClick Interactive also provides LBS (Location-based Services) to target potential customers within 5km of a client's physical stores, attracting more traffic and enabling other marketing triggers.
Establishment of Data-Management Platform: Putting in place a DMP delivers a seamless omni-channel and personalized shopping experience, covering both online and offline to meet the trends of Smart Retail.

Building on this successful first implementation in retail space, iClick Interactive plans to extend their BI solutions to other vertical sectors such as education, autos and government departments to meet their specific industry needs.
The platform has already been extended to the education sector in August.
What we're hoping is that the company will enter other arenas like that of advanced TV for instance. Not only are these fast growing sectors, they might also confer higher gross margins due to an enhanced bargaining position for the company. BI isn't yet important in terms of revenue contribution.
Partnerships
There were partnerships announced with:
The company does have important partnerships with behemoths like Baidu (NASDAQ:BIDU), extended in February to native advertising:
Native Advertising is a consumer-friendly, non-disruptive advertising format that has gained rapid popularity among advertisers in recent years. The market size for native ads is expected to exceed RMB163 billion in 2017, and account for more than half of China's online advertising market by 2020, according to iResearch. Newsfeed, as one of Baidu's twin engines, is creating additional advertising inventory. Based on its extensive data set, sophisticated data analytics capabilities and cutting-edge technologies, iClick provides solutions that will help marketers identify, engage and activate potential customers, and create content catered to these customers via Baidu's different content distribution channels across PC and mobile devices.
The company already had an agreement with Tencent's (OTCPK:TCEHY) Qzone native ad inventory since 2015. Indeed, the growth in native ad spending is taking off: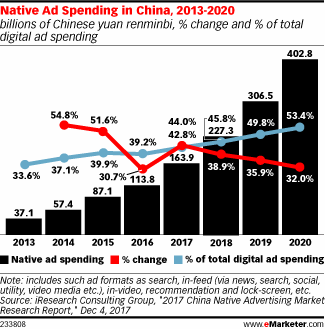 The company also has a partnership with Tencent for mini apps (which work inside the WeChat program). It's a giant new inventory for them to access and it helps them to get offline data to enrich their data capabilities, becoming a true omni-channel marketing platform.
But they had cooperation agreements with Baidu since 2014 at least.
International
With iClick's data set and access to inventory, they should be an attractive partner for overseas brands wanting to expand in the Chinese market. The company has made this a lot easier last year with the launch of their self-service platform (The Drum):
Chinese media specialist iClick Interactive has launched a new platform that will allow international agencies, marketers and demand-side platforms (DSPs) access to Chinese inventory on a self-serve basis, with the launch providing access to premium inventory sources including WeChat and Qzone. The iAccess platform will allow its customers to build and optimise campaigns for Chinese audiences themselves from any place in the world. iClick Interactive said the launch satiates a growing understanding of the importance of Chinese consumers, plus it also adds control and transparency to a market that has historically taken a very different approach to programmatic than the rest of the world.
The company has seven offices in Asia and two more in London and New York. They just opened an office in Korea in August.
There are a number of interesting case studies on the company's website describing how iClick's platform has helped foreign brands.
Margins
Gross margins have been stabilizing after a substantial decline last year, but operational margins have been improving throughout the year: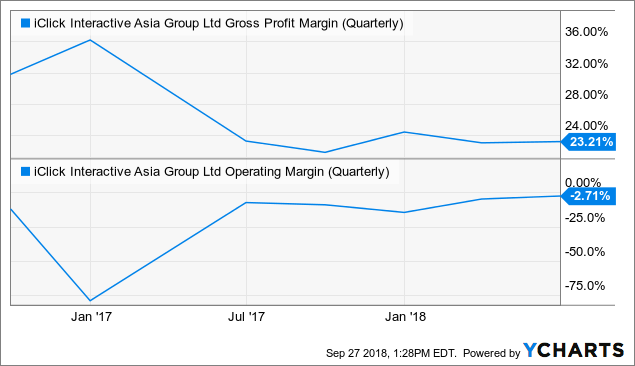 There is a longer-term view from Morningstar which shows that cost of revenue has increased from some 55% in 2015 to the high 70s% in the last two years: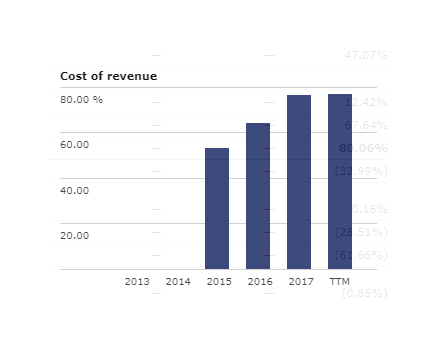 We assume that the relatively low gross margin of iClick is due to size and the inherent fragmentation of the Chinese market, but not fully utilizing the full levels of automation could also be somewhat of a factor here.
After all, programmatic ad buying is relatively new in China and perhaps a lot of customers need a considerable amount of hand holding.
More importantly, sell-side in mobile is dominated by large platforms such as Tencent and Baidu, keeping a lid on iClick's bargaining power and margins. The latter indeed seems to be the case from the 2017 20-F (our emphasis):
While marketing via non-mobile online channels has been established for several years, marketing via mobile channels, in particular via mobile apps, is a relatively new phenomenon. We have experienced and expect to continue to face more significant competition for our mobile audience solutions. In addition, in light of the rising demand for marketing via mobile apps, mobile app publishers, especially popular mobile app publishers tend to command stronger bargaining power compared to their non-mobile app publisher counterparts. All of these have resulted in a downward pricing pressure on, and increased media costs for, our mobile audience solutions. While net revenues from our mobile audience solutions increased significantly, which amounted to US$11.9 million, US$57.8 million and US$101.4 million in 2015, 2016 and 2017, respectively, gross margins for our mobile audience solutions remained relatively low and decreased during these periods, which contributed to the decrease in our overall gross profit margin from 47.1% in 2015 to 36.0% in 2016 and further to 23.6% in 2017. As we continue to prioritize the execution of our mobile strategy and face increasing competition and pricing pressure for our mobile audience solutions, our profit margin could be materially and adversely affected.
Indeed, the sell side is quite concentrated (our emphasis):
Media cost for content distribution opportunities on Tencent, Baidu, Google and Alibaba channels in aggregate accounted for 84.0%, 81.6% and 89.1% of our media costs in 2015, 2016 and 2017, respectively. Media cost for content distribution opportunities on our largest channel partner in each of 2015, 2016 and 2017 accounted for 55.0%, 42.2% and 66.7% of our media costs during the relevant periods, respectively, and media costs for content distribution opportunities on our second largest channel partner in each of 2015, 2016 and 2017 accounted for 22.6%, 36.1% and 21.2% of our media cost during the relevant periods, respectively.
This is from the risk factors section and later it also becomes apparent that product mix is another determining factor:
The gross profit margins for our sales agency arrangement and cost-plus marketing campaigns are higher than that for our specified action marketing campaigns as cost of revenues for our sales agency arrangement and cost-plus marketing campaigns does not include media cost. Consequently, an increase in the percentage of gross billing recognized as net revenues from performing specified actions marketing campaigns will have a positive impact on our net revenues and a negative impact on gross profit margin.
Somewhat reassuringly, gross margins have stabilized this year. Is there any way to improve the situation?
Gaining market share and industry consolidation could increase bargaining power at least to some extent, especially if iClick's platform becomes much better than competing ones.
The company could move into segments where margins might be better, like Advanced TV. It already has moved into native ads (with Baidu) but margins might not be all that much better there.
The platform could evolve into something more powerful.
On the latter, here is the Q2CC:
Ultimately, we may develop ourselves as a platform and a superconnector that creates a large bridge between the app owners, the users and business who want to gain access to the users.
On the other hand, operating costs have fallen more dramatically: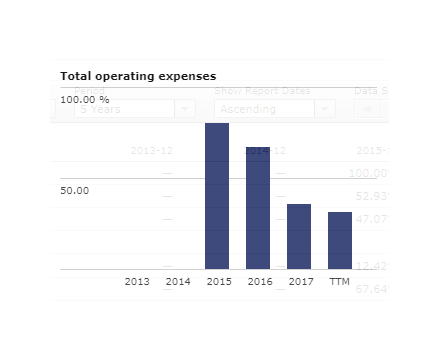 Operating margin improved from -7.5% a year ago to -2.7% in Q2 as operating expenses are rising (+20.5% to $11.1M) at less than half the rate of revenues (+43%). In fact, in the first six months of the year, operating cost increased by just 4.9% to $20.9M.
The overall result is of course that the company is closing in on break-even and already adjusted EBITDA positive ($0.85M in Q2). Management expects the improvement to last and move to overall profitability next year.
Cash
The latest data we could find is from their 2017 20-F:
The company's cash and cash equivalents amounted to $26.1M compared with $19.4M in cash and cash equivalents and $25M time deposit at the end of last year so there is still considerable cash bleed.
One should also realize that there are preferred shares which earn a dividend, from the 2017 20-F:
As of December 31, 2017, there were 26,059,433 ordinary shares outstanding, par value $0.001 per share, being the sum of 21,238,825 Class A ordinary shares and 4,820,608 Class B ordinary shares.
It's not surprising therefore that the company did a $30M note financing just the other day:
The Notes will be convertible at the conversion price, at the option of a holder, into the Company's American depositary shares ("ADSs"), each representing one-half of an ordinary share of the Company as of the date of this press release. The conversion price will be calculated as an 8% discount to the lower of the VWAP (volume weighted average price) of the ADSs over a certain period, or a fixed price of $8, subject to adjustments upon the occurrence of certain dilutive events
Valuation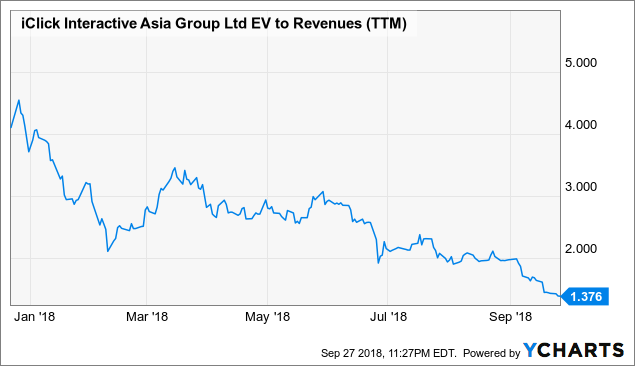 There is a rather marked decline in valuation throughout the year which of course is the result of the falling share price, but we have to admit it's difficult to see what has led investors to value this three times less today than at the beginning of the year.
What's more, while analyst still expect a loss (of 8 cents a share) this year, they predict a profit (16 cents a share) the next. Valuations in programmatic ad platforms vary quite a bit: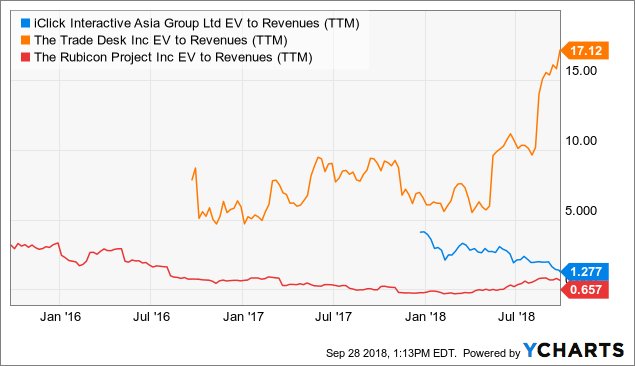 We covered The Rubicon Project (RUBI) recently (here) and its low valuation isn't surprising given the size of its losses, although there is a turnaround in play here that is itself quite interesting, as we argued in that article.
We also covered The Trade Desk (TTD) not so long ago (here) and it's the best performing share in our SHU Portfolio. It shows what is possible, in terms of multiple expansion once the company is hitting all the right notes.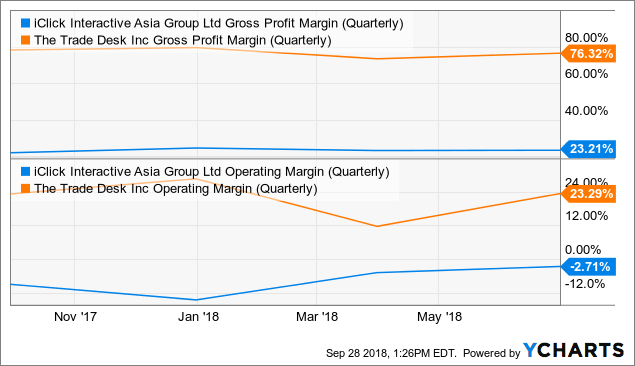 There is of course a big gap in inherent profitability especially with regards to gross margin, the gap of which seems less bridgeable to us than the operating margin gap as growth rates aren't all that different: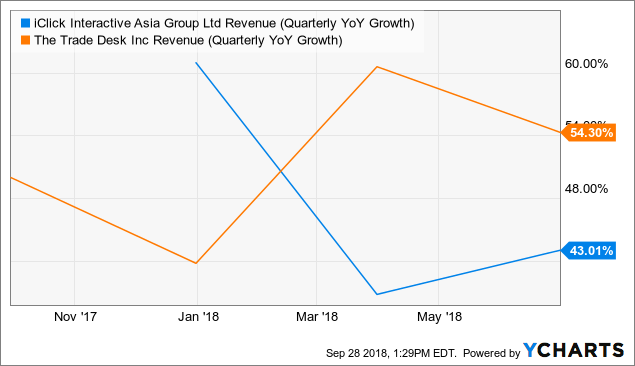 Risks
Data privacy isn't such a big concern in China as it is in the EU, for instance, but the company doesn't collect identifiable private data anyway, from the China Daily interview with the CEO:
Hsieh is aware of the complications along the way, such as data privacy. He maintains that iClick does not collect any identifiable data on individuals, such as phone numbers or email addresses.
We can't say we're enthusiastically embracing the following though:
This is their ownership structure at the time of the IPO prospectus (from which it is copied), and while we know that these VIE (variable interest entities) are quite common and we realize this is all done by clever accountants for tax purposes and to comply with restricting foreign ownership regulations, they don't enhance our confidence. There is some help underway though (IPO prospectus):
As a result of these contractual arrangements, we have effective control over, and are the primary beneficiary of, OptAim Network and therefore treat OptAim Network and its subsidiary as our consolidated affiliated entities under U.S. GAAP and have consolidated their financial results in our consolidated financial statements in accordance with U.S. GAAP. For a description of these contractual arrangements, see "Our History and Corporate Structure."

The laws and regulations that imposed restrictions on foreign ownership in advertising companies, including the Administrative Provisions on Foreign-Invested Advertising Enterprises were abolished in June 2015. We are in the process of transferring the business operated by our VIE, OptAim Network, to our wholly owned subsidiaries. We expect that by the end of 2018, OptAim Beijing will replace OptAim Network as contracting party for all our mobile audience solution business that are operated by OptAim.
Indeed, the 20-F lists a few of the risk factors attached to this complex structure, but on the other hand, these structures are rather common (the complexity of iClick's ownership structure is absolutely nothing compared to that of Alibaba (NYSE:BABA), for instance).
Then there are the preferred shares, 4.8M of Class B ordinary shares versus 21.2M Class A ordinary shares (per March 31, 2018). Two ADS's (listed on the Nasdaq since late last year) representing one Class A ordinary share. But the Class B shares hold 20x the voting power of Class A shares, providing the CEO and COO (Mr. Hsieh and Mr. Tang) with roughly 82.1% of the voting power.
Conclusion
We see a number of reasons for taking a position:
The company is the leading independent programmatic ad platform.
The company is growing faster than the market, taking market share.
It has an enormous database.
There is considerable operational leverage.
The company's losses are reducing and is expected to reach profitability next year. Given the improvement in performance to date, that looks like a realistic perspective.
The platform can be monetized in more ways and more segments (Advanced TV!) in the future.
The valuation of the shares is rather moderate.
Against:
The company is up against very strong supply-side partners on the sell-side in mobile and the competitive landscape is fragmented, together these conspire to produce fairly low gross margins. Market consolidation as the company taking market share, or better, entering more profitable market segments are potential remedies to this, but are far from given.
The cumbersome ownership structure.
Still, overall, the price decline since the IPO is quite remarkable and we don't think altogether deserved. We think there is a buying opportunity here.
Disclosure: I/we have no positions in any stocks mentioned, but may initiate a long position in ICLK over the next 72 hours.
I wrote this article myself, and it expresses my own opinions. I am not receiving compensation for it (other than from Seeking Alpha). I have no business relationship with any company whose stock is mentioned in this article.
Zoomd Reports