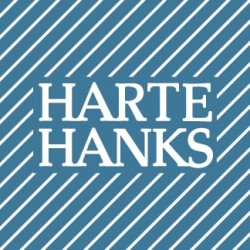 Harte Hanks (NYSE:HHS) was upgraded by Zacks Investment Research from a "strong sell" rating to a "hold" rating in a note issued to investors on Wednesday.
According to Zacks, "Harte-Hanks is a worldwide direct and targeted marketing company that provides marketing services and shopper advertising opportunities to local, regional, national and international consumer and business-to-business marketers. Harte-Hanks Direct Marketing improves return on its clients' marketing investment by increasing their prospect and customer value a process of customer optimization organized around five strategic considerations: Information data collection/management — Opportunity data access/utilization — Insight data analysis/interpretation — Engagement knowledge application — Interaction program execution. Expert in integrating this process, Harte-Hanks Direct Marketing is highly skilled at tailoring solutions for each of the vertical markets it serves. "
Several other brokerages also recently commented on HHS. Noble Financial restated a "buy" rating on shares of Harte Hanks in a research report on Thursday, November 8th. ValuEngine upgraded shares of Harte Hanks from a "hold" rating to a "buy" rating in a research report on Friday, December 21st.
HHS opened at $3.36 on Wednesday. Harte Hanks has a 1-year low of $2.38 and a 1-year high of $12.16. The company has a market capitalization of $21.81 million, a price-to-earnings ratio of -2.80 and a beta of 1.07.
Harte Hanks (NYSE:HHS) last released its quarterly earnings results on Wednesday, November 7th. The business services provider reported ($1.01) earnings per share for the quarter, missing the Thomson Reuters' consensus estimate of ($0.77) by ($0.24). Harte Hanks had a negative return on equity of 2.70% and a negative net margin of 4.27%. The business had revenue of $63.59 million during the quarter, compared to the consensus estimate of $67.20 million. On average, sell-side analysts predict that Harte Hanks will post -0.93 EPS for the current fiscal year.
A hedge fund recently raised its stake in Harte Hanks stock. Fondren Management LP boosted its stake in shares of Harte Hanks Inc (NYSE:HHS) by 25.7% in the 2nd quarter, according to its most recent disclosure with the SEC. The institutional investor owned 584,100 shares of the business services provider's stock after acquiring an additional 119,300 shares during the period. Harte Hanks accounts for 5.0% of Fondren Management LP's portfolio, making the stock its 5th largest holding. Fondren Management LP owned approximately 9.36% of Harte Hanks worth $6,484,000 as of its most recent filing with the SEC. Institutional investors and hedge funds own 33.76% of the company's stock.
Harte Hanks Company Profile
Harte Hanks, Inc provides various multi-channel marketing services in the United States and internationally. The company provides agency and digital services, including search engine management, display, digital analytics, Website development and design, digital strategy, social media, email, e-commerce, and interactive relationship management services; and database marketing and business-to-business lead generation solutions that offer insight and analytics, customer data integration, and marketing communications tools.
Recommended Story: Stock Split
Get a free copy of the Zacks research report on Harte Hanks (HHS)
For more information about research offerings from Zacks Investment Research, visit Zacks.com
Receive News & Ratings for Harte Hanks Daily – Enter your email address below to receive a concise daily summary of the latest news and analysts' ratings for Harte Hanks and related companies with MarketBeat.com's FREE daily email newsletter.
Cludo News